Don Jazzy Reacts To Amaka's Sudden Disqualification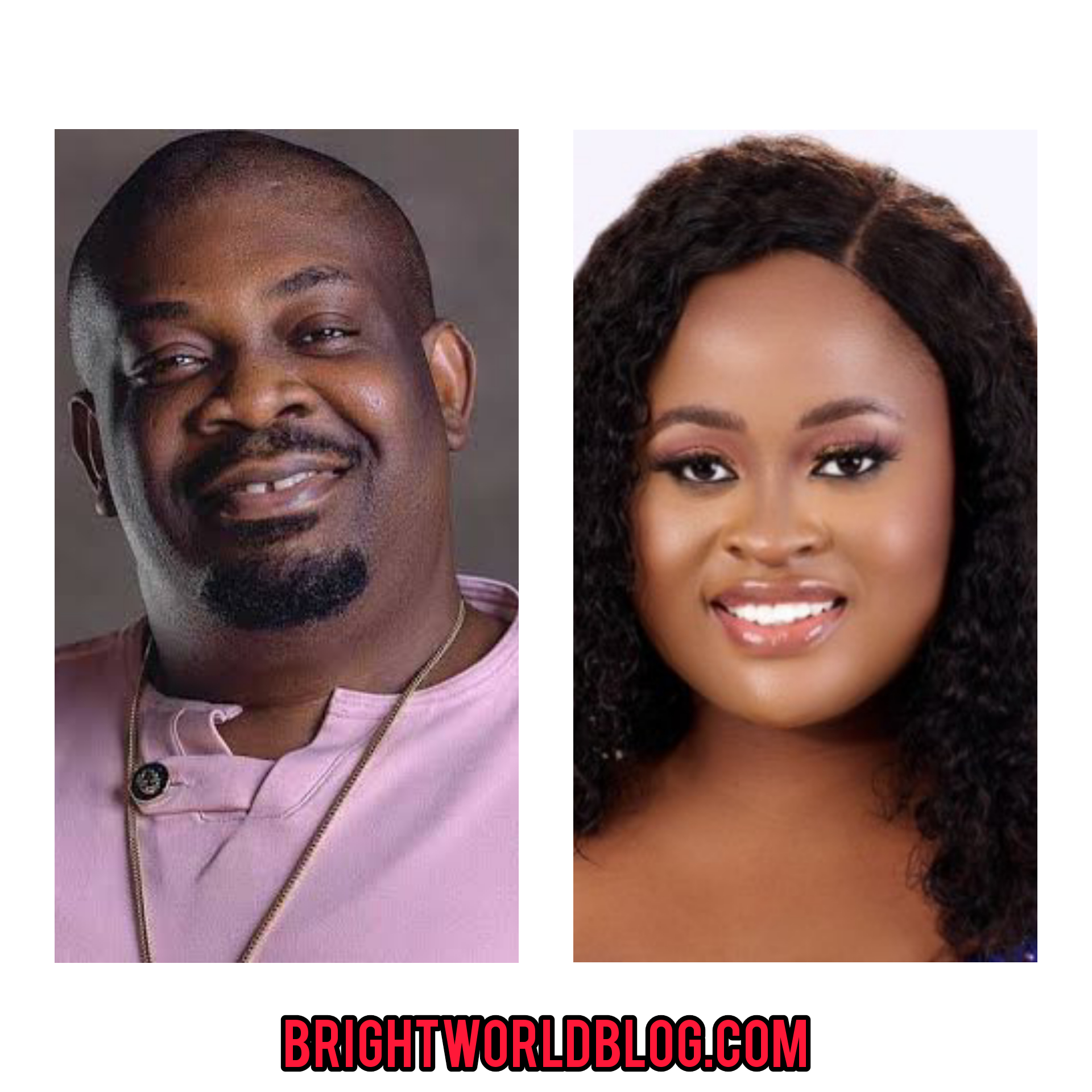 The popular Nigerian music star and record label owner, Don Jazzy has quickly reacts to the news of Amaka's immediate disqualification in disguise of eviction.
According to the music boss, Don Jazzy expressed his disappointment over the sudden eviction of Amaka asking how could Biggie do such an immediate eviction over a minor reason.
However, according to the cause of Amaka's immediate eviction, she broke Biggies rules of not handling one of the kitchen equipment carefully which could have result to fire outbreak if not noticed early.
But despite Amaka's apology over the microwave and Biggie, Biggie still finds it unworthy to still keep her under his roof, so he had to disqualify her immediately.
Reactions has trail over the issue as a lot of people campaign against the action taken by biggie to disqualify Amaka despite her apologies, stating that giving her a serious warning or punishment could have been the best rather than taken her away from the 100 million naira race.
This actually saddens everyone's mind including the big music boss, Don Jazzy. And here is what Don Jazzy had to say.
Below is Don Jazzy's reaction over Amaka's disqualification.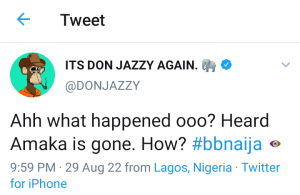 Massive Crowd Turn Up For Peter Obi In Kanu State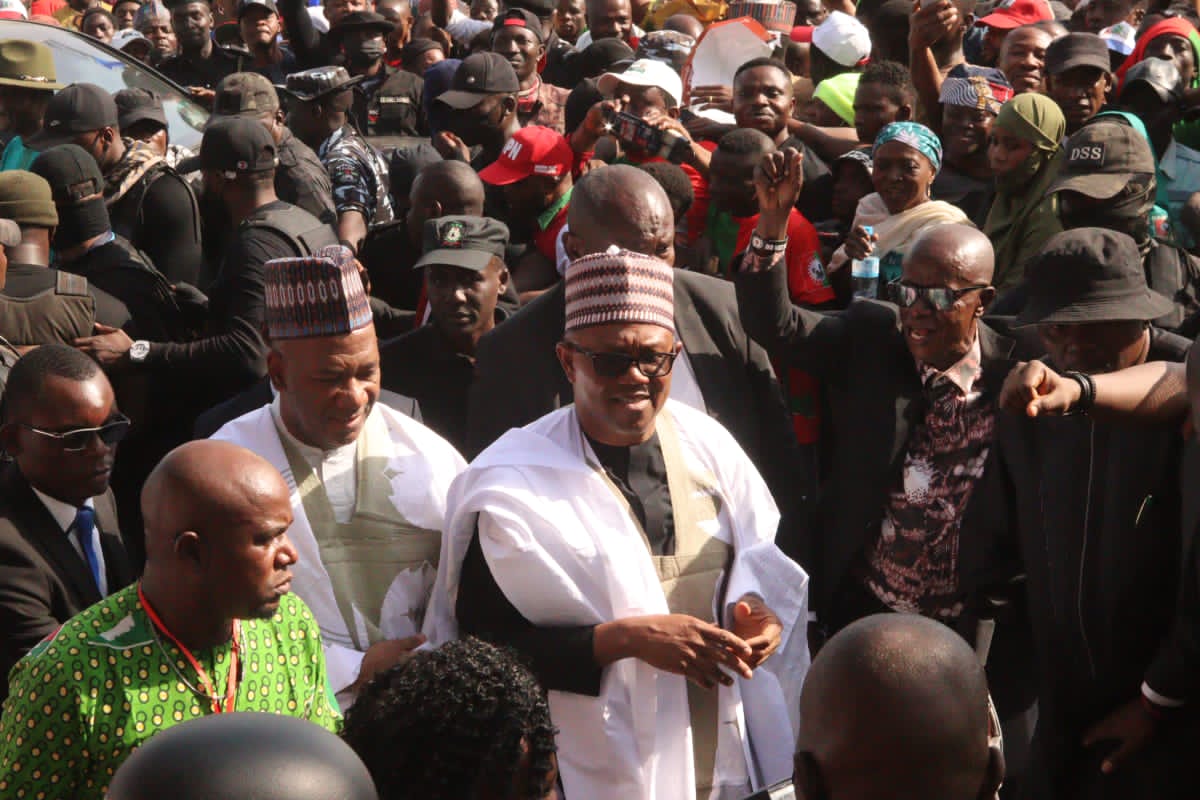 High number of crowd turn up for H.E Mr Peter Obi today during the OBI-dent presidential Campaign rally in Kanu State to support the movement and show their concern about the new Nigeria that is about to come through the Obi-datti government.
Contrary to people's believe and thought that Kanu State isn't OBI-dent, this massive Crowd has shown that the people of Kanu state are also tired with the present situation in the country and are willing to drive to the change with Mr Peter Obi.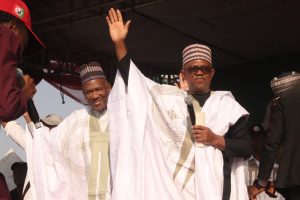 Reacting to this massive Crowd, Mr Peter Obi who is running for the office of the president of the federal republic of Nigeria under the umbrella of labour party, pend down an appreciation write up as follows
"Thank you Kano State for the warm reception, the energetic and lively crowd of Obidient supporters. You made today a great success. A New Nigeria is possible! -PO".
Below are some interesting pictures from the Kanu State rally.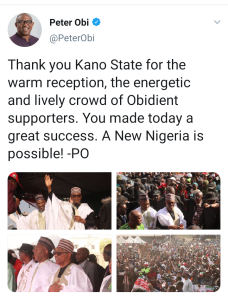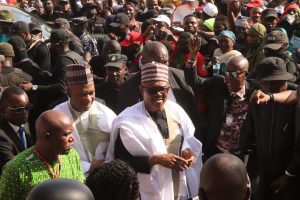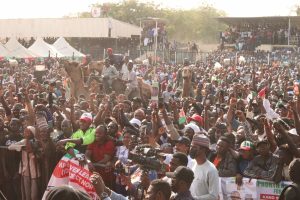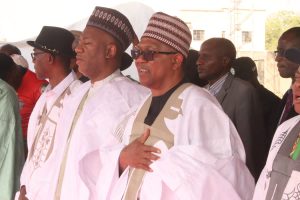 Somethings Can't Be Bought, Wizkid Baby Mama Confess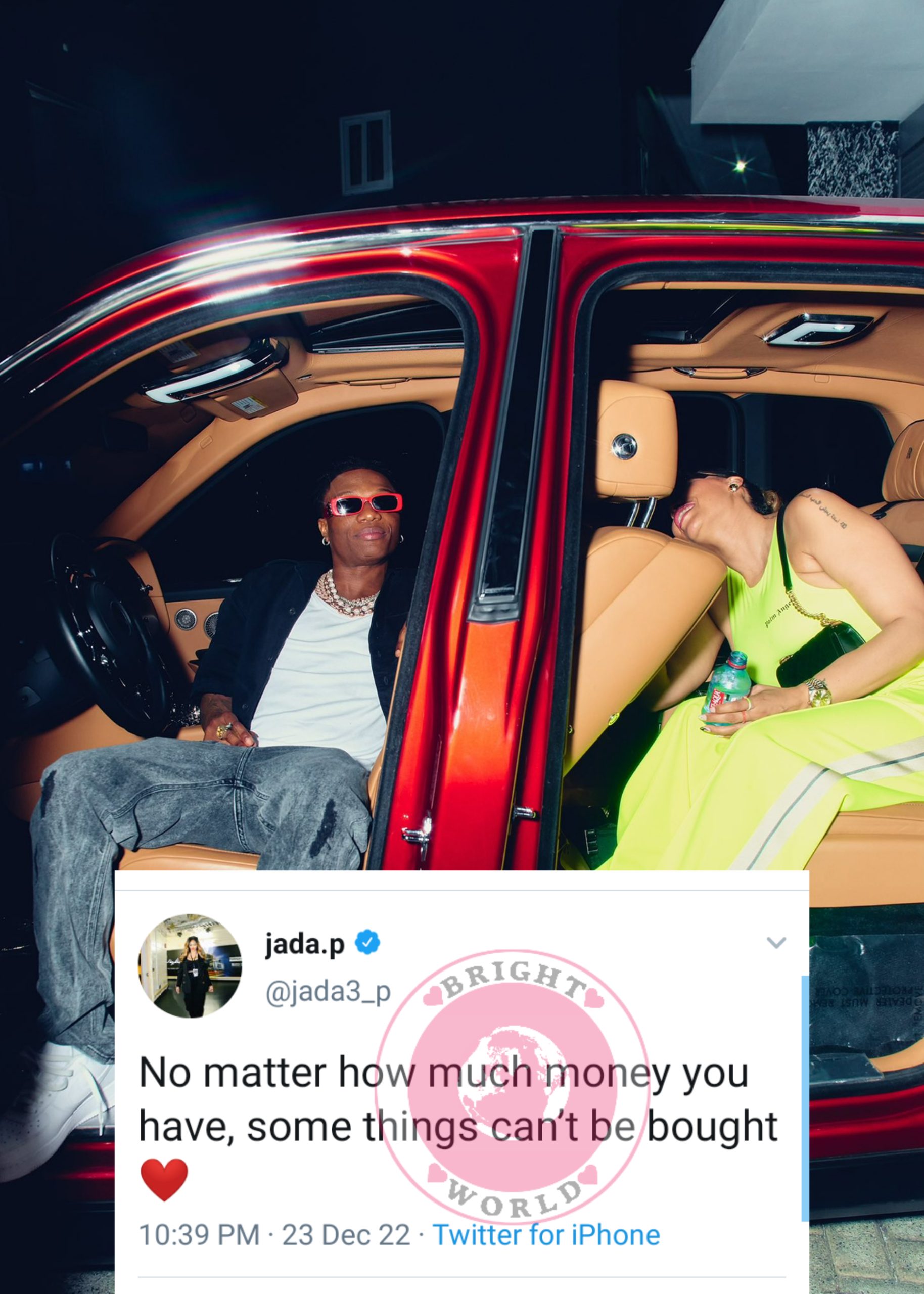 SOMETHINGS CAN'T BE BOUGHT, JADA P
One of the numerous baby mamas owned by the Nigerian singer and song writer Wizkid, has taken her social media handle via Twitter to confess that true true money can't buy everything.
According to the baby mama to Wizkid, Jada P stated that no matter how much one has in his or her bank account, there are still things money can't be able to acquire.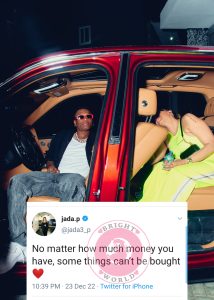 Though regarding the present world we are living, it can be hard and rare to see things that MONEY can't buy, but there are quite numbers of them that no matter how .y h you have, you can't be able to get them with those money.
SCREENSHOT BELOW.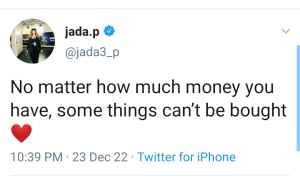 Peter Obi Respond To The Supporter Who Took His Party Flag To Mountain Kilimanjaro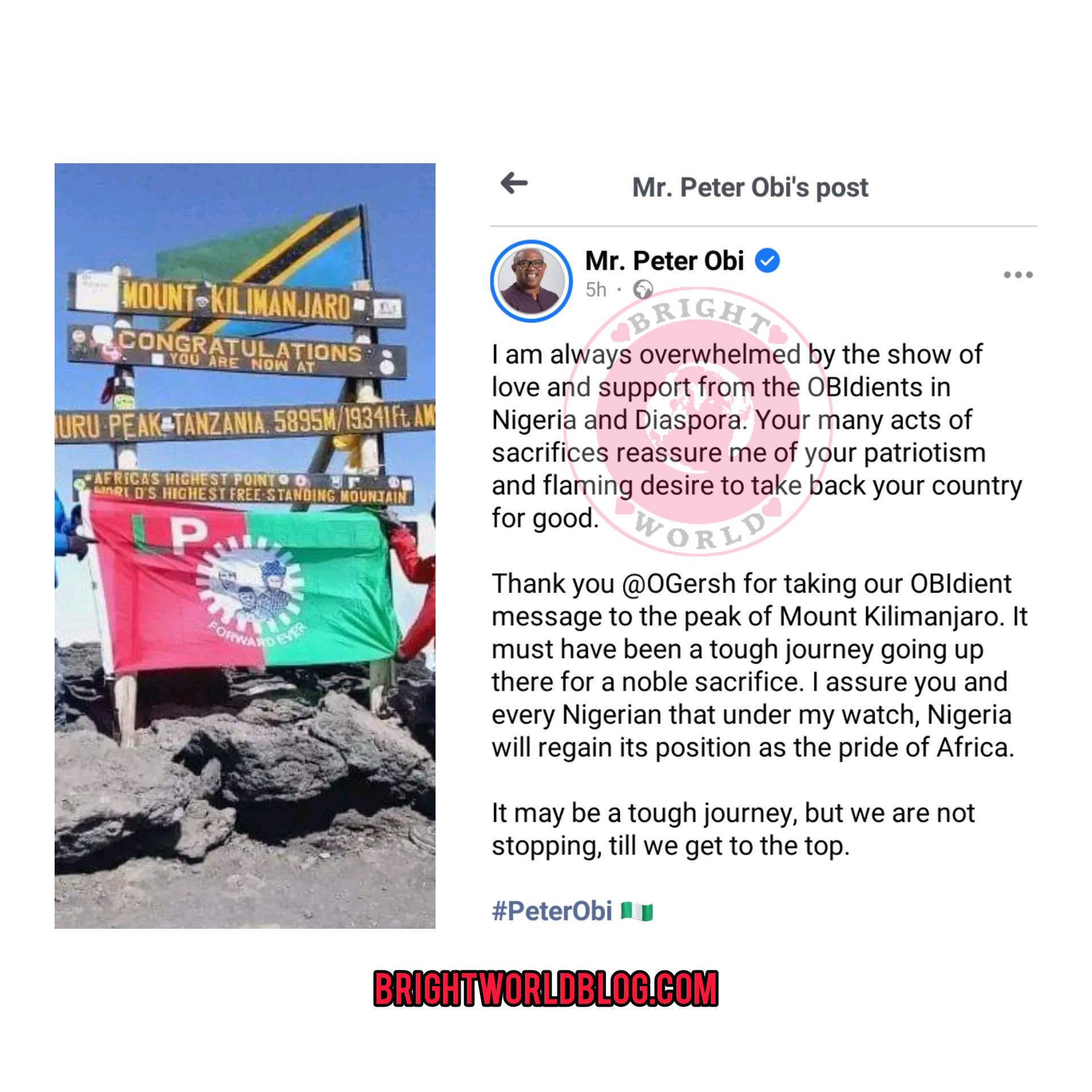 The labour party presidential candidate, Mr Peter Obi has reacted to the viral Picture of his supporter who took the labour party flag up to the tallest mountain of Africa, Mountain Kilimanjaro.
In his word, Peter Obi commend the supporter stating that such action always assure him of people's desire towards taking back the country, while adding that under his watch Nigeria will regain it's position as the pride of Africa.
Mr Peter Obi said and I quote
"I am always overwhelmed by the show of love and support from the OBIdients in Nigeria and Diaspora. Your many acts of sacrifices reassure me of your patriotism and flaming desire to take back your country for good.
Thank you @OGersh for taking our OBIdient message to the peak of Mount Kilimanjaro. It must have been a tough journey going up there for a noble sacrifice. I assure you and every Nigerian that under my watch, Nigeria will regain its position as the pride of Africa.
It may be a tough journey, but we are not stopping, till we get to the top.
#PeterObi 🇳🇬"