Deep Thought: Living The World Of ORIGINALITY And UNIQUENESS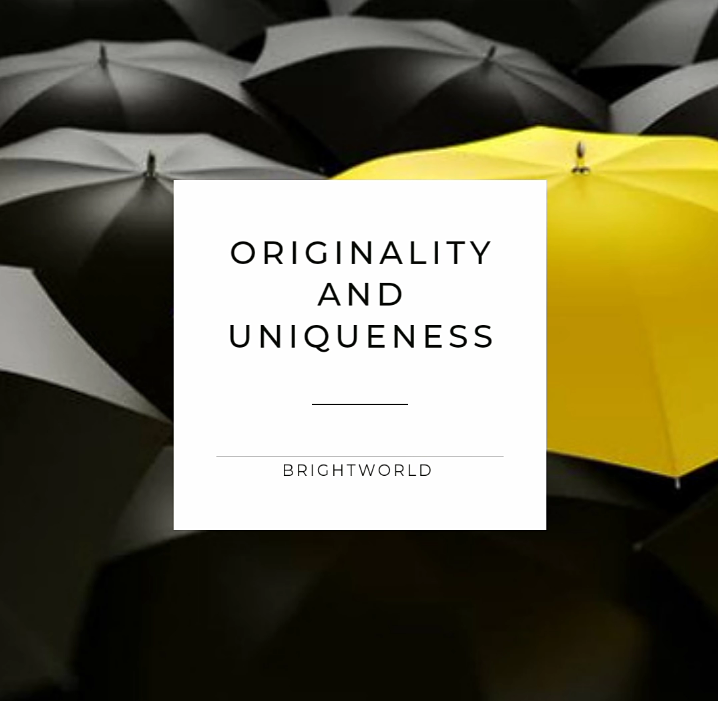 Live a life of your own, be unique and maintain your Originality and uniqueness. 
Leave a foot print different from the crowd, yes though at times this may seems to be hard to live different from the way others do, it may seems difficult to avoid most of the things your mate love doing.
But you have to understands what original or originality mean. It is the act of exhibiting the natural qualities and characters encoded in you. Living original is the action taken by you to live the way you are, to live and exhibit the qualities in you, other than involving in imitation.
There are a lot of benefits you can derive when you start living your life the way you are and vise versa.
Originality means legitness, it means your world , it  has to do with acting differently from others even when peer pressure seems high on you.
Force of peer pressure has taken many to the wrong side of character, it has really done more harm than good and that is why you have to make a good choice in pals you keep. Isolate yourself from the wrongs ones who are willing to influence you against your own world, against your ORIGINALITY and against your choice.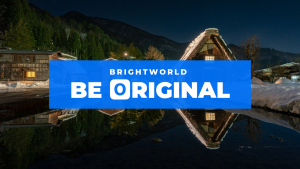 Most at time it may seems your world isn't working or recognized by people, you may feel pissed over people's inability to appreciate the good qualities you have or appreciate your Originality and uniqueness. You start examining some folks who are recognized and known by people but they are living in the opposite direction of your world.
After much analysis of how well they are doing and making some comparison with your own world, the tune changes and you decide to run up to their direction in any way you can. Not minding whether it fit in or not, not minding about originality and values. That's peer pressure, allowing imitative force to overshadow you.
Imitation is fake and fake can never be as good as originality. People seems to like and flow with those aside your party because fake people are after fake things. while original beings are after original things.
Fake or imitation has a short duration more than original. 
Be good and live your original life, even though people seems not to recognize or appreciate you. Remember, don't act against your will to please someone else. Even when they trying making negative comments about you, don't be weighed down by their speech
One day you will surely hear the sound of originality and understand the importance of being unique and living according to your nature, instead of imitating others. 
Worrying Won't Stop The Bad Stuff From Happening – Be Happy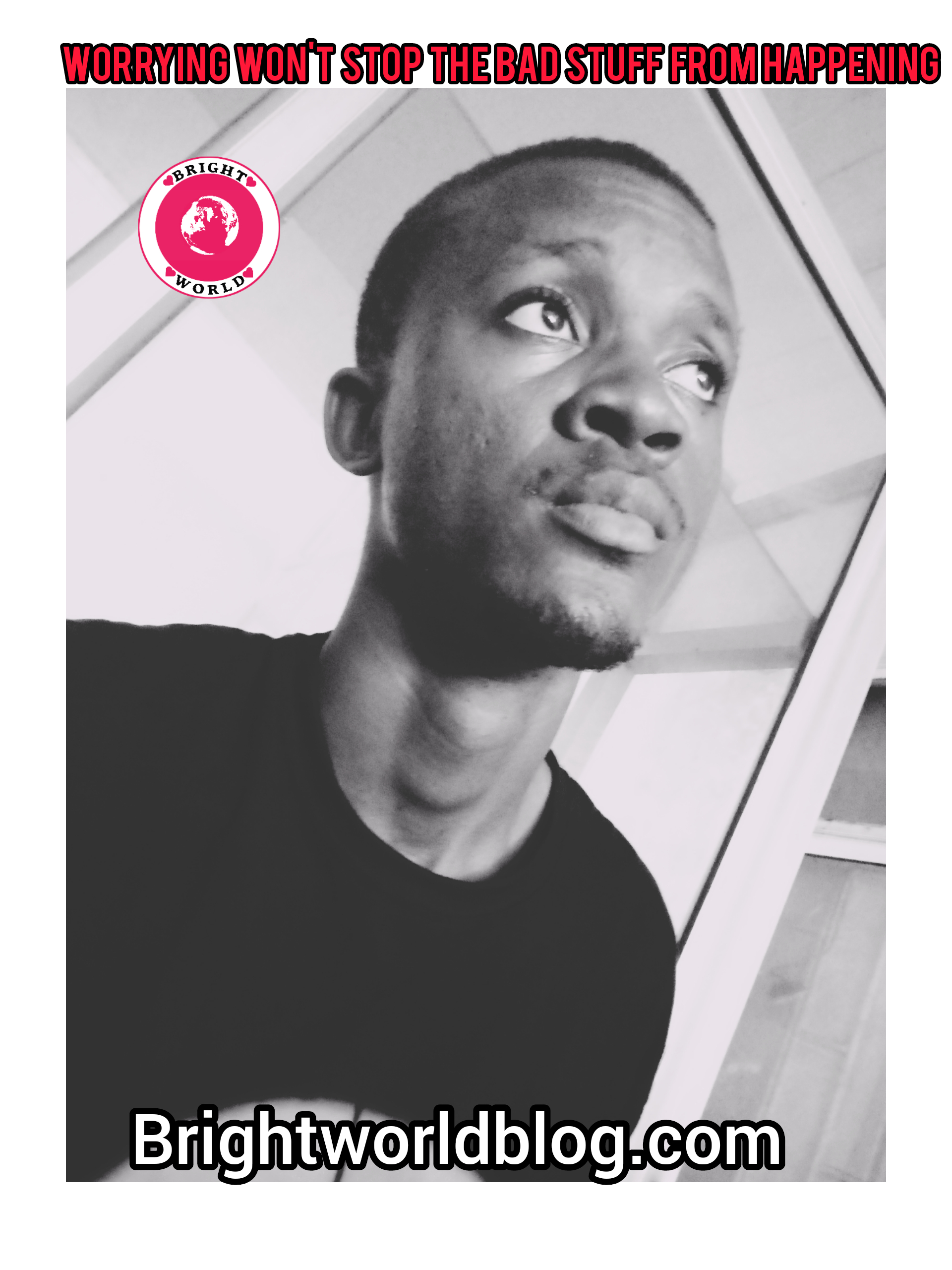 WORRYING WON'T STOP THE BAD STUFF FROM HAPPENING
Just as the above word says, worrying won't stop the bad stuff from happening, with it's simple definition gives you the best details of the rest.
"Worrying won't stop the bad stuff from happening" is definitely one of the best life inspiration that aims to enlighten you more about the importance of being happy always, instead of worrying over bad times in your life, because worrying won't stop the bad stuff from happening.
Most times, when people worries too much, they tend to develop headache, pains and sometimes severe mental problem which can cause one to become insane.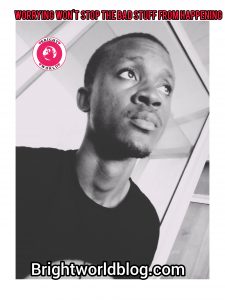 The truth about life is that hardship, struggles, challenges and bad stuffs are the pillars that holds the success, rich, wealth and the records we seek for in life.
This literally mean that there can never be rich without struggles, there can never be wealth without life problems, there can never be records, success and good life without challenges and bad stuff happening many times. So challenges and bad stuff are there to take you to your destination, but only if you can hold on and persevere.
Worrying won't stop the bad stuff from happening, instead of sitting down to worry, instead of worrying over the natural things that are meant to happen, just be strong and be happy.
WORRYING WON'T STOP THE BAD STUFF FROM HAPPENING – Be Happy
Happiness is actually essential in everyone's life, it helps in growth, not just in growth, but in proper growth. Instead of bothering yourself over the challenges, instead of worrying yourself over the obstacles that has weighed you down, just stand on your fit and be strong, stay happy because worrying won't stop the bad stuff from happening.
Worrying over and over can only cause more harm to you, it can never solve your problems or challenges, it only adds to it.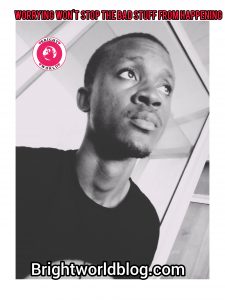 Embrace HAPPINESS and stop complaining over the hardship, because the obstacles and challenges you are seeing, the problems and hardship on your way are just there to make you stop, to make you know what life it's all about and to make you understand more deeper of life, which you won't know in your happy moments.
So embrace PEACE, embrace HAPPINESS and always stay focused, worrying won't stop the bad stuff from happening.
No matter how you think from now till tomorrow, your thinking can never solve the problem for you, your thinking can never be a solution for you, instead it will cause additional harm and problem to you.
So live and stay happy rather than worrying over life challenges, because worrying won't stop the bad stuff from happening, they only worsen them.
THANKS
For Your Entertainment Platform, Visit LOAD9JA
Sweet Thought Banquet For Your Soul Soul – Sweet Thoughts Bouquet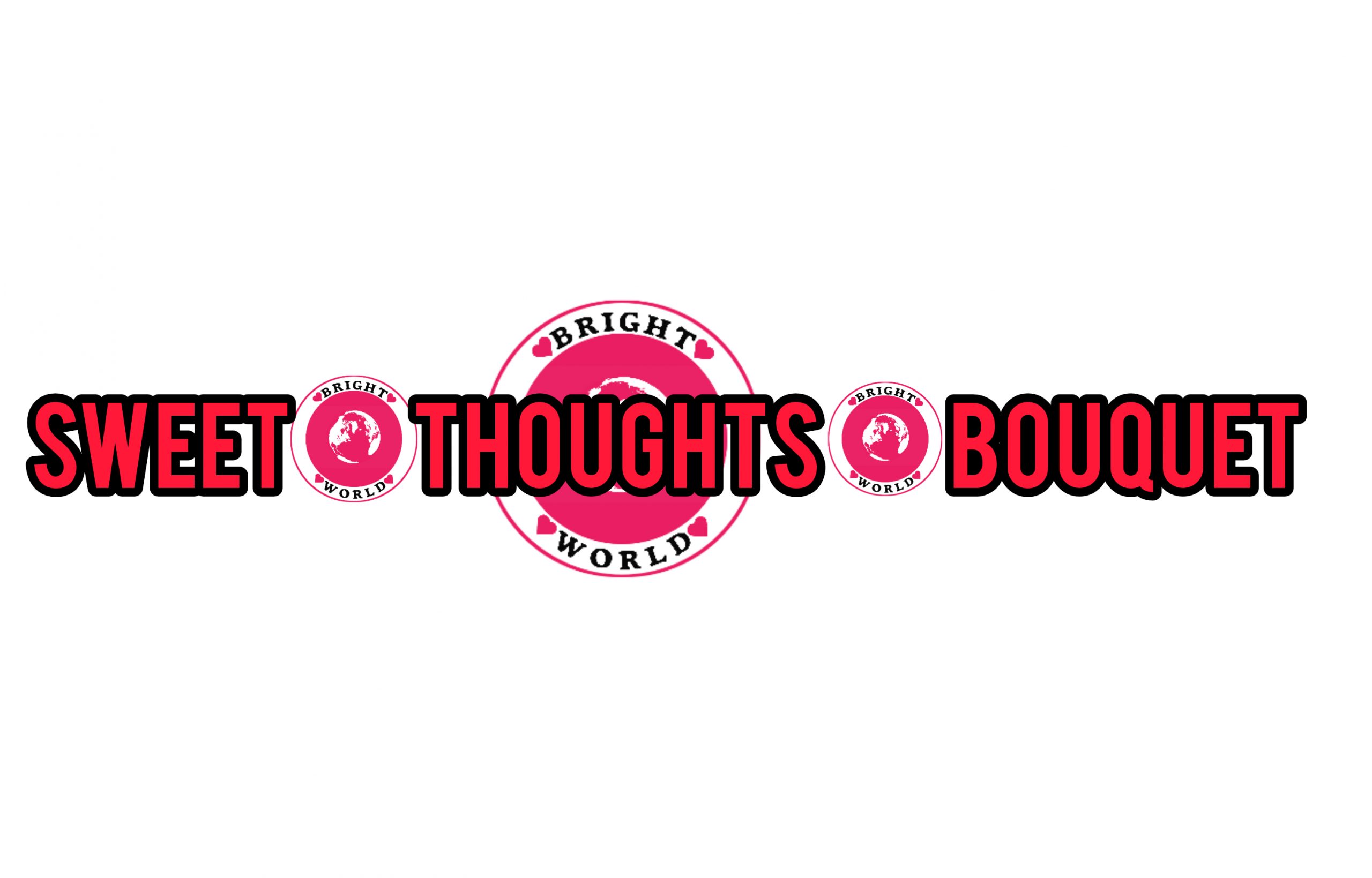 Sweet Thought Banquet – Sweet Thoughts Bouquet
A sweet thought banquet for your soul can be seen as a deep thought that requires a deeper reasoning, a deeper thinking and a deeper examination before one can be able to come out with a suitable understand of it.
In most cases, before we carry out any task, duty or do anything, we would be advised to think about it before engaging in. To have a deep thinking over the action we are about to take before we can continue going further, this is what sweet thought banquet implies.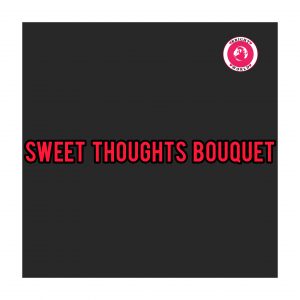 Sweet Thought Banquet For The Soul – Sweet Thoughts Bouquet
Sweet thought banquet for thole soul are meant to build you, guide you and place you in above circumstances in life.
Sweet thought banquet are deep thought that gives you insight of the future, insight of how to carry out a task successfully and help in pushing you towards being a better person.
As stated, it is very important to always think over any decisions one wants to make, not just thinking about it, but having a proper sweet thought banquet of it. Sweet thoughts bouquet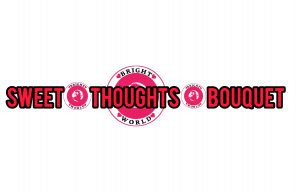 That is, thinking more deeper about it, this includes what the decision can result to, whether good or matter and how you can be able to handle whichever one that comes out of it. Sweet thoughts bouquet
Thinking about this will give you a detail whether you are doing doing right or not, whether you are thinking straight or not, whether you are getting it right or wrong, and whether you are making it or not. That's all sweet thought banquet is implying. Sweet Thoughts Bouquet
Why Does A Dying Person Stare At The Ceiling? – Facts To Know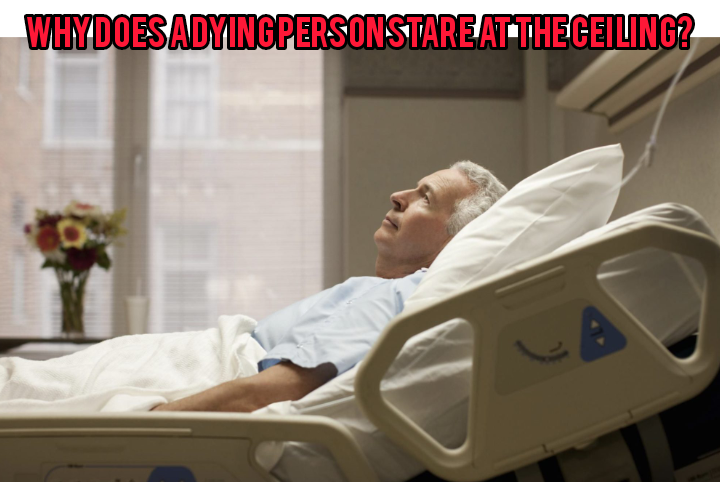 WHY DOES A DYING PERSON STARE AT THE CEILING?
Why does a dying person stare at the ceiling have actually been a general question most people are eager to know as the situation has actually cause for alarm which has made thousands of people to jump into findings as to know why such situations occur.
Actually, when being observant while being with an elderly person, an injured person or a person who is struggling to get his or her life back, staring at the ceiling will be one of the things you will see the person doing and this has triggered questions from thousands of people who are seriously in search of the reason why such thing happen.
Why Does A Dying Person Stare At The Ceiling? – Facts To Know
So you may have been part of those asking this question of why does a dying person stare at the ceiling which you may or may not have gotten the answer, well here are facts about dying people that always state at the ceiling.
Why Does A Dying Person Stare At The Ceiling – What We Know
Well, to get it straight, dying people are always in an unconscious state and this happens as they try their possible best to stay alive and also to recall somethings they know, but with the state they may be, it will be very difficult for them to get all that.
So it's always a tough situation on their side and staring at the ceiling has been part of their way to recall what they may be trying to say as they are in the point of death. It's always like a battle on their side as they will be trying hard to speak.
However, this can be merged as one of the reasons why people who are in dying state can hardly be heard by anyone around them as most times they speak in language none of those around can understand, and also always off the point.
Why Does A Dying Person Stare At The Ceiling? – Answer
So the simple interpretation we can say about the reason why dying people are always staring at the ceiling is their act of hallucination and struggle to survive and recall all they may know or things they may want to say.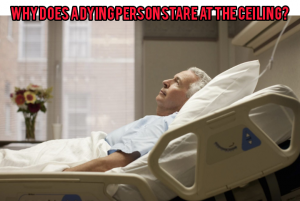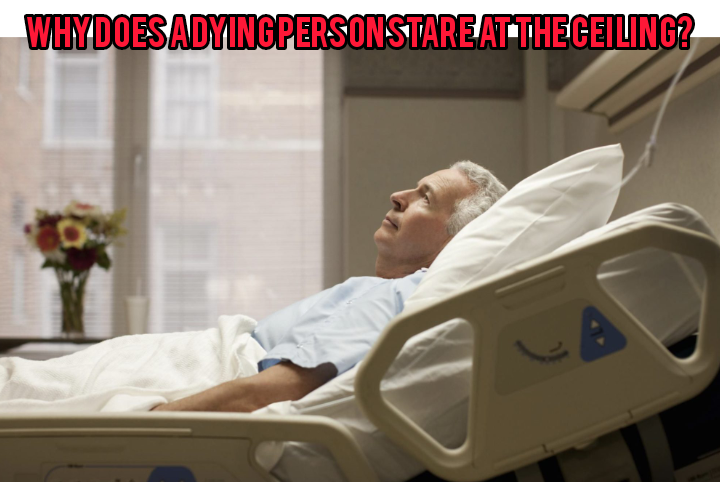 But however, the weirdest thing here is that in most cases, at their point of death none of them will know what they are doing, that is why sometimes they talk off the POINT.