I guess most of us have been hearing about relationship, and we may or may not know what Relationship actually mean, well the following article highlights most of the things you need to know about RELATIONSHIP. Starting from the definition to the importance.
MEANING OF RELATIONSHIP 

Relationship as we may know is a connection between two or more things or two or more individuals. It's a connection that exist between two or more things or two or more people.
TYPES OF RELATIONSHIP 
There are different kinds and types of Relationship, in other words, there are different kinds and types of connection that can exist between two or more things or between two or more people. There are family connection (Relationship), business connection, love or Romantic connection (boyfriend and girlfriend).
However, we are focusing only on the love and romantic kind of relationship which exist between two people that can be tagged "lovers".
RELATIONSHIP: This is the usual relationship we seems to recognize in the society as it involved two committed individuals with the same objective that points towards the future.
Relationship in other word refers to a connection of two committed individuals who have agreed to be with each other till they get marry in the future. Relationship is a MARRIAGE practical stage where you grow the love and affection you wants to enjoy when you both finally get marry, it's a stage where you learn and study your partner very and then exermine if you can cope with his or her character or not.
RELATIONSHIP is a second stage that comes after DATING where the both parties involved build loves, trust and all the qualities that facilitates MARRIAGE. 
IMPORTANCE OF RELATIONSHIP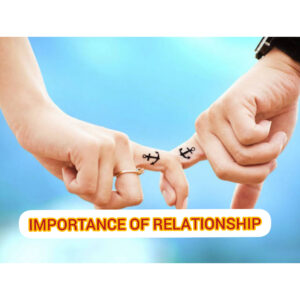 There are a lot of merits that goes with Relationship and some of them are:
It helps you in knowing more deep about your partner, which you may not know when Neglected
It helps in building love, trust, and most of the qualities that will help you in getting your marriage calm, peaceful, safe and secure.
Relationship helps in safeguarding your weak points.
It helps in knowing more and deep about the background of your partner. This is one of the challenges most married Couples that didn't began with Relationship normally face.
Relationship helps in knowing likes and dislikes of your partner, this is one of the things that causes problems in marriage. Starting your journey with Relationship will help you in knowing all of these and more.
The importance of Relationship cannot actually be over emphasized as it is the chain that drives peaceful and happy marriage. RELATIONSHIP is one of the things that sustain marriage making it a healthy one.
Relationship involves two matured people who have gotten to the stage of being referred as an adult both physically and mentally. It's a commitment between the both individuals with the same objective.
Relationship is not a game as people made it to be. It's not a business of trade by barter just as the society has painted it to be. It's all about investment done with commitment by both parties towards a future value.